Preston Reynolds and Cindi Pearl Sullivan, the loving couple from "Winner Takes All," have planned the perfect winter wedding. Two weeks before they say "I do", Cindi is invited to a holiday get together for the graduates of Stevensville High School. Four months before graduation, Cindi fell in love, but suffered teenage heartbreak a week before she got her diploma. The invitation brought back all of the humiliation she suffered. She confesses all to Preston and he encourages her to attend, hold her head high and show everyone she has made a success of her life. She also has a man who loves her more than life itself.Thomas Leland has returned to reclaim the woman he pushed away and to plans to pick up where he left off. His cheerless moth has transformed into a Monarch butterfly and he's a man who gets what he wants. First he has to break up her engagement.
Ryan Jefferies was a man with a life plan. Make the prestigious law firm he'd been entrusted by his father a continuing success; get married after he turned forty; become a father, in that specific order. He'd been deceived once and swore he'd never again become a victim of an unplanned pregnancy.  He'd celebrated his fortieth birthday nine months ago and purchased a house. This New Year's Eve, he planned to ask the woman of his dreams to marry him and become the mother of his children. The only problem he was having with his life plan was she'd stopped communicating with him shortly before his birthday and he couldn't understand why.
Meredith Saltarelli's carefree outlook on life was to have fun. Still living at home, she enjoys the love and support of her big Italian family. As a fourth-grade teacher, she's loved by her students and the children she tutors, pro bono. The one thing she's always dreamed of having was a child of her own. At thirty-nine, she's waited for the man of her dreams. Ryan Jefferies is everything she's always wanted in a husband. Unfortunately, life doesn't always follow a happy path. When she accidentally gets pregnant and miscarries, her dream of becoming a mother is shattered. How do you tell the man you love with all your heart that you can't give him the family that he wants? Heartbroken at the loss of their child and those that she can never have, she decides to break things off so he can find a woman who can fulfill his dream. When tragedy strikes a family with two of the children Meredith tutors, she has no other choice but to turn to Ryan for help. Daniel, Ryan's guardian angel, has determined these two are destined to be together and decides to set them on the right path. He'll need a little extra help so he turns to his best buddy, Father Time.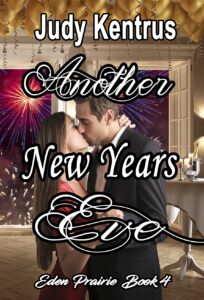 Danielle's Christmas Wish
Caleb Hughes Thompson, owner of Hughes Department Stores, business-driven world is shattered when he receives a letter, written by his recently deceased brother. His dying wish is to have Caleb locate his daughter, the result of a one night stand. He should start in Eden Prairie, Indiana.
Erin MacKenna is a third-grade teacher in the Abraham Lincoln primary school in Eden Prairie. One crazy night of indiscretion resulted in the most wonderful gift she'd ever been given, her daughter Danielle. Not wanting to damage her daughter of a preacher reputation, she tells everyone she was artificially inseminated. Caleb needs someone to help plan Santa Traditions, the children's holiday promotion at their Eden Prairie location. A teacher in the primary school would be well-skilled dealing with young children. It would also be the perfect place to start searching for his niece. Heartwarming, endearing Christmas story. Added Bonus Short Story: Danielle's Snowy Wish